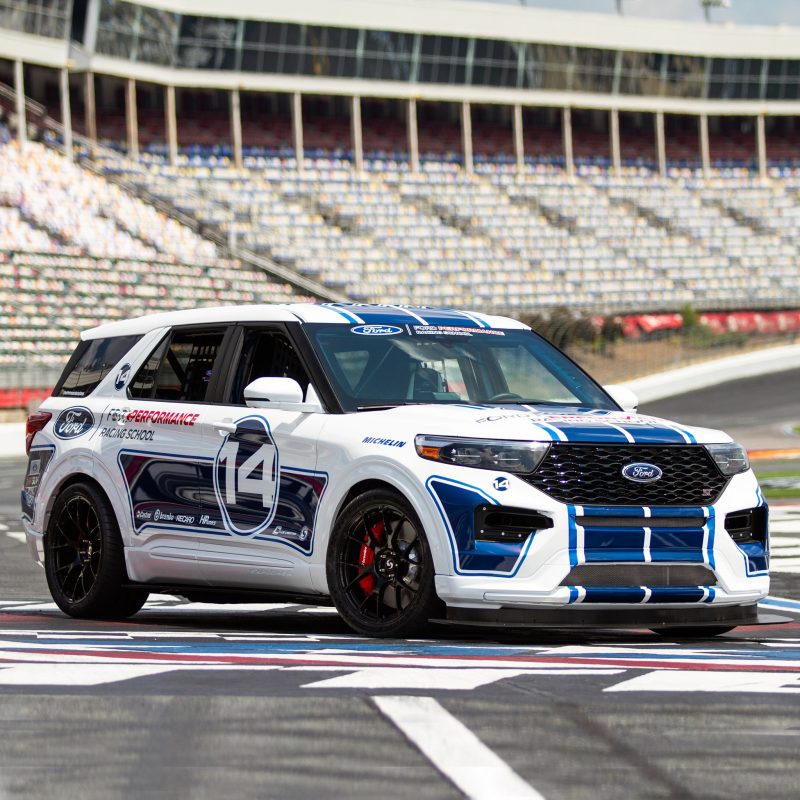 Ford Performance Racing School is using this weekend's 26th annual Woodward Dream Cruise presented by Ford, the world's biggest cruise and celebration of automobile culture, for the global debut of its newest flagship vehicle, a modified Explorer ST designed exclusively for track use.
Based on the Explorer ST, this purpose-built specially-modified vehicle will be featured in the Ford Performance Racing School's display located in "Mustang Alley", the annual gathering of the Mustang faithful on East 9 Mile Road in Ferndale, Michigan.
This corner-carving SUV builds on the extraordinary performance capabilities of the Explorer ST, and features support from the school's partners: Brembo, Castrol, Michelin, RECARO, and Signature Wheels. This exciting 4-passenger track monster will participate in track days across the country following its debut.
CONCORD, NC, August 17, 2021 – In a bold move to draw attention to the programs it offers to all driving enthusiasts and the exclusive programs it offers to Ford performance vehicle owners, Ford Performance Racing School is unveiling a unique, specially-modified performance version of the Explorer ST on August 21, 2021,at the 26th annual Woodward Dream Cruise presented by Ford. This exciting new 4-passenger track vehicle will be featured in the Ford Performance Racing School's display in the middle of "Mustang Alley" – a gathering of the Mustang faithful and over 600 privately-owned Mustangs."Based on our experience with the production vehicle in the no-charge program we and Ford offer Explorer ST and Edge ST owners exclusively, the ST SUV Experience, the Explorer ST is a phenomenal vehicle. Already fast and nimble, our goal with our modified vehicle is to take this already capable platform and turn up the volume a bit… further unleashing the beast into one capable of thrilling up to four people on the track – all in a safe and controlled manner. Working closely with Ford engineers and with our valued partners we are on our way to accomplishing just that – and this vehicle is scheduled to see plenty of track time starting shortly after the Woodward Dream Cruise", said Dan McKeever, president, Ford Performance Racing School. "This is a work in progress. The vehicle will undergo more performance tuning as we learn its full potential."
Vehicle Highlights

3.0L EcoBoost twin-turbocharged V6 engine
Custom fabricated, MIG welded 4-passenger, 4-door dual main hoop SUV full safetycage, featuring 1.75" OD DOM tubing
Four RECARO Cross Sportster CS seats with custom FPRS trim and Safecraft 4-pointsafety harnesses
Racing window nets in all door windows
Brembo six-piston monobloc aluminum calipers (front brakes)
Shelby GT500 16.5" vented rotors (front brakes)
Castrol Edge 5W-30 engine oil
Castrol SRF racing brake fluid
Michelin 315/30ZR21 Pilot Sport Cup 2 tires
Signature Wheels SV503 Track Series wheels
Vehicle graphic design and graphics package from Lue Creative
Performance tune by HP Tuners
Background
Established in 2006, Ford Performance Racing School provides instruction in high-performance driving to drivers of all levels. In addition to offering traditional driving instruction to all, the school is home to business and product training programs conducted for Michelin/BFGoodrich, as well as the complementary programs offered to first owners of new Ford Performance vehicles exclusively. Starting with the Boss Track Attack program in 2012, these programs have expanded to include the following for their respective owners: ST Octane Academy (for Fiesta ST and Focus ST owners – now complete), GT350 Track Attack, RS Adrenaline Academy (for Focus RS owners – now complete), Raptor Assault, ST SUV Experience (for Edge ST and Explorer ST owners), GT500 Track Attack, and the just-launched Mach1 Track Attack.
Ford Performance Racing School has regional headquarters in Tooele, Utah, and at the Charlotte Motor Speedway in Concord, North Carolina, with satellite venues in each region hosting the ST SUV Experience. Along with Ford and Michelin/BFGoodrich, official marketing partners of Ford Performance Racing School are Brembo, Castrol, and RECARO.
For more information contact:
Bill Johnson William.johnson@fpracingschool.com (980) 296-3304